So I just got around to updating the iMac and iBook with Security Update 2006-003 for OS X (10.3.9). And I have found an excellent "side effect" of the update. The update contains fixes and updates to Apple's WebKit, which is the technology that Safari uses to render web pages. As those of you know who like to use Safari to create posts on our blog (like I do, you can't beat OS X's built in spell checker that works in Safari but not Firefox), Panther's version of Safari didn't used to display the helpful authoring buttons found just below the Title area when creating a post. Well, as seen by the picture below, those buttons now show up correctly after applying Security Update 2006-003.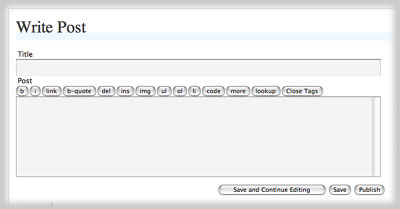 So if you are running 10.3.9 and like to use Safari to post to our blog, what are you waiting for? Download and apply the update to see what all those Firefox users have seen for a while now.
! UPDATE – 8 JUL !
Scratch this whole post, I got up this morning and noticed that the buttons weren't showing up anymore. Oh well, back to the choice for posting, check as you type spell checker (Safari), or buttons (Firefox or Opera, Opera's latest release is pretty cool if you'd like to try an alternative browser).